Ivan Guaderrama
Biography
Born 1984 in Chihuahua, Mexico. First learned to use an airbrush while attending High School in New Mexico. He further developed his skills as a painter and sculptor while studying under such talents as Henry Paul Ally at the Colorado Springs Fine Arts Center, where he later obtained his degree in plastic arts. In 2003, Guaderrama held his first individual exhibition titled "Liquid Dreams" at The Western Colorado Center for the Arts.
  Shortly after, he began using a technique he referred to as "Live Texture" in which he would combine oil, acrylic paint, marble powder and resins to enhance the material characteristic of his work. One year later Guaderrama opened his first Gallery, Criticas de Arte Galeria, in his home town of Chihuahua. In 2010 Guaderrama presented a new technique called "Glass Expression", involving a fusion of resins, colors and effects on glass. This causes the work to come alive not only within the perception and variety of concepts, but within the unique and visually dynamic elements as well.
This was the turning point in the artist´s technique; what Guaderrama has referred to as "electricity". Since then the artist has participated in fifteen individual exhibitions and twelve group exhibitions within Mexico and abroad as well as opening his memorably breath taking gallery in the beautiful San Jose Del Cabo Art district. As of recent, Guaderrama has taken a more interactive direction with his art work in an attempt to bridge the gap between artist and viewer.
Guaderrama has watched over years of experience the many instances in which the artist has made his form of expression a more self centered one, structuring it around the artists own personal highs and lows. To him, art was never about things, but more about love, God, and connection between us all. Due to these elements serving as the foundation of his belief system the narrow minded view of art would not work as an outlet of expression. Instead Guaderrama created painting, sculptures, and benches that would sing, light, and come to life only with the interaction of the observer be it through the touch of a hand or a change in light-even a change in weather. In an open exhibit in the notorious Luxury Avenue, Guaderrama shared his interactive work with an eclectic audience and invited them to participate in its origin. The outcome was overwhelming, young and old, black and white, and every contrast of human being came together over the joy and love of experiencing Guaderramas art in a hands on atmosphere. This is why Guaderrama does what he does, this is his true passion. Guaderrama continues to welcome art lovers to his galleries, and appreciates every moment he is able to share his passion with others.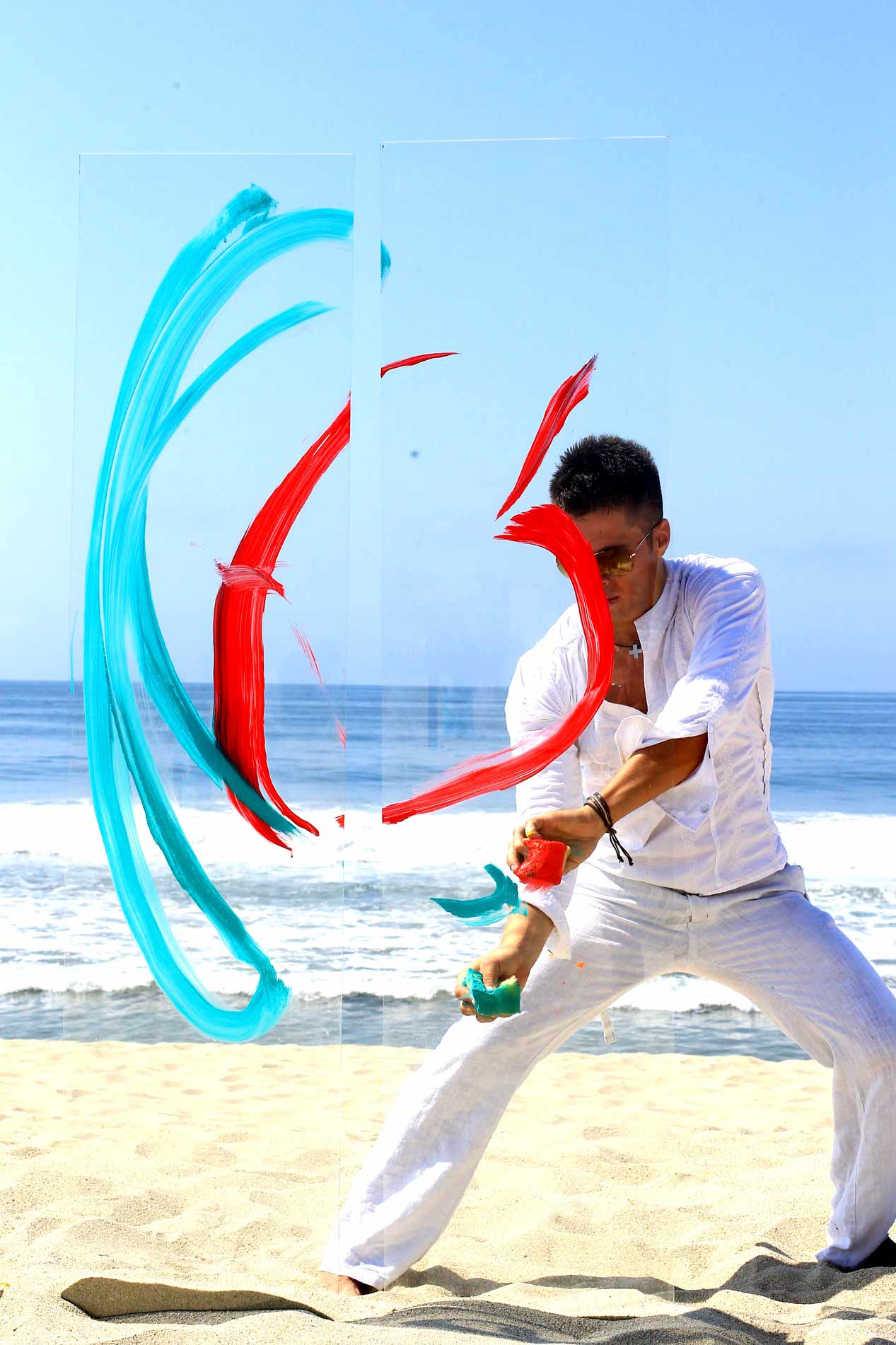 An Artist's Narrow Road
As artists, we are notoriously self-absorbed. Our creativity is centered around ourselves, and in the beginning, I was no different. I belonged to the world, it´s material mentality, and seek to only glorify myself. As time passed on, I began to feel a longing for something more. No matter my success, or how many people surrounded me I felt a deep loneliness and emptiness. My art felt uninspired, and I began to understand that something was missing. I began to seek different options, trends that others swore by and while some temporary made me feel better nothing could truly heal my soul and keep me from falling into the ways of the world.
Eventually, a friend of mine began to discuss the word of Christ with me. After the number of methods I tried, I couldn´t see how it would hurt to try this, especially after seeing the vast difference it made in his life. I began to study the Bible, read books, watch videos, whatever I could to understand Jesus Christ and his teachings. My life began to heal peace by peace, but I wasn´t fully healed yet. My wife (then girlfriend) and I attended a major Christian conference, which had a powerful worship ceremony. Something in me shifted at that moment. I felt the presence of the Holy Spirit in a way I will never forget. If you are not a follower of Jesus or a believer, let me take this moment to tell you there is no drug, no human relationship, no material purchase that could ever bring such an overwhelming peace. I opened my heart there and then, and my belief moved from a mental state to an emotional and spiritual state. Since that day Jesus has overflowed out of my life, into my heart and into my work. My paintings are just another way I worship Him, serve Him and spread his message. He is my creator, and he has blessed me with the power to create, and through that, I celebrate him every day.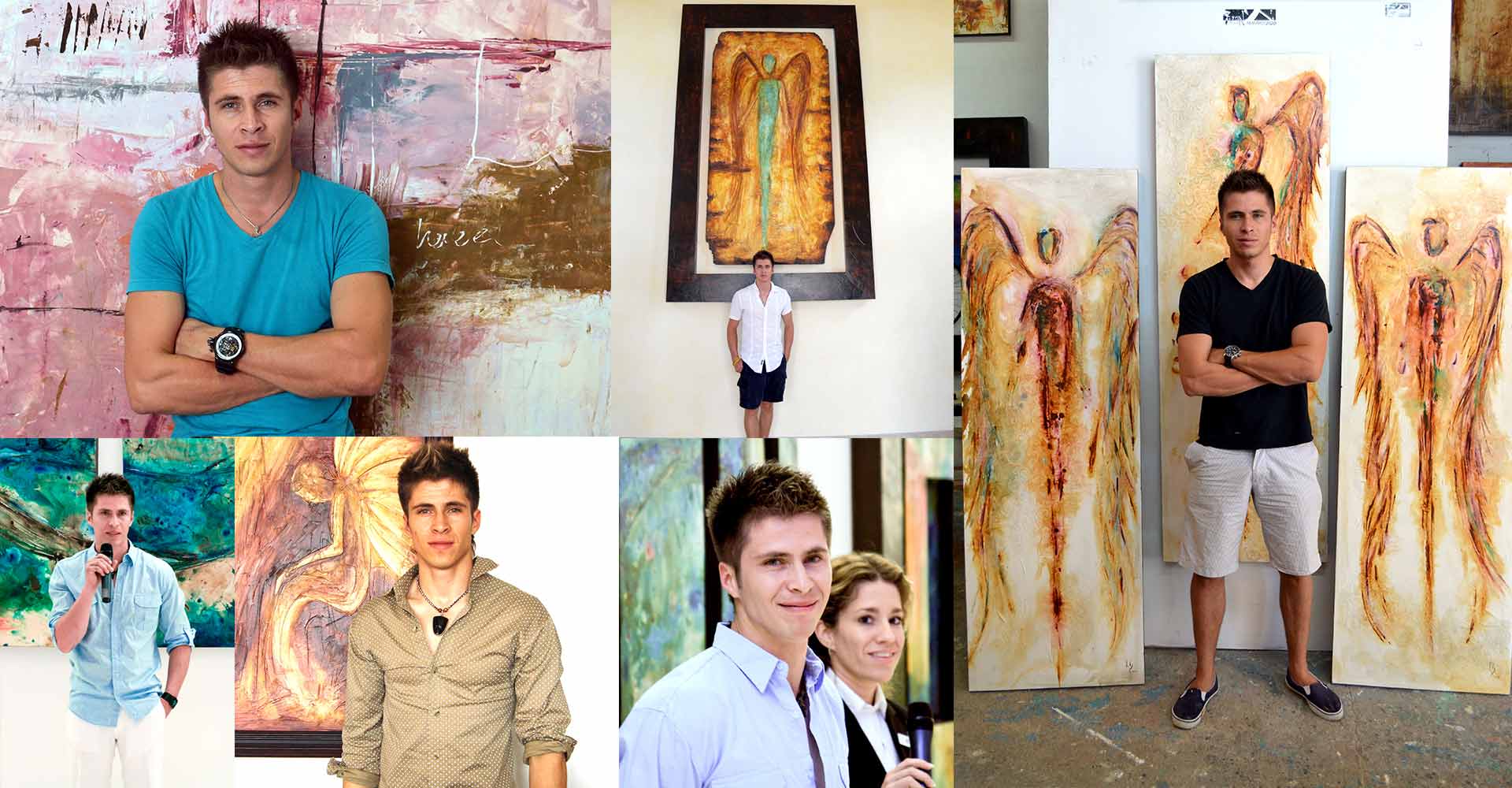 OUR BLOG
Interviews & Publications